an E-commerce fashion App, employs AI to provide tailored outfit suggestions reflecting individual style preferences and body shapes

The App allows users to maintain a trendy appearance by adapting looks to changing tastes, and also introduces fashion influencers with similar styles.

The App facilitates convenient shopping through connections to diverse platforms, offering a multitude of fashion choices aligned with personal preferences.
My Role
UX Researcher
UX Designer

Contribution
User Research
UX Design
Prototype
Visual Design

Team
Hanyue
Catherine
Tanner

Tools
Figma
Figjam
Adobe Illustrator
📃 Context
Online shopping has become a staple of modern life, yet the challenge of finding items that
truly match our style, preferences, and budget
persists.
Many of us have experienced the frustration and disappointment of receiving items that
don't meet our expectations, leading to the hassle of returns
. This is particularly pronounced when shopping for clothing, where fit and style are crucial.
🧐 Problem Statement
How might we create an AIGC product for online shoppers that offers personalized outfit recommendations and quick outfit selection?
🎯 Project Goal
To provide
a seamless and efficient online shopping experience
, allowing shoppers to find the products they want quickly and easily, and making their experience more enjoyable, productive, and personalized.
︎︎︎ Onboarding Progress
︎︎︎ Main Feature Pages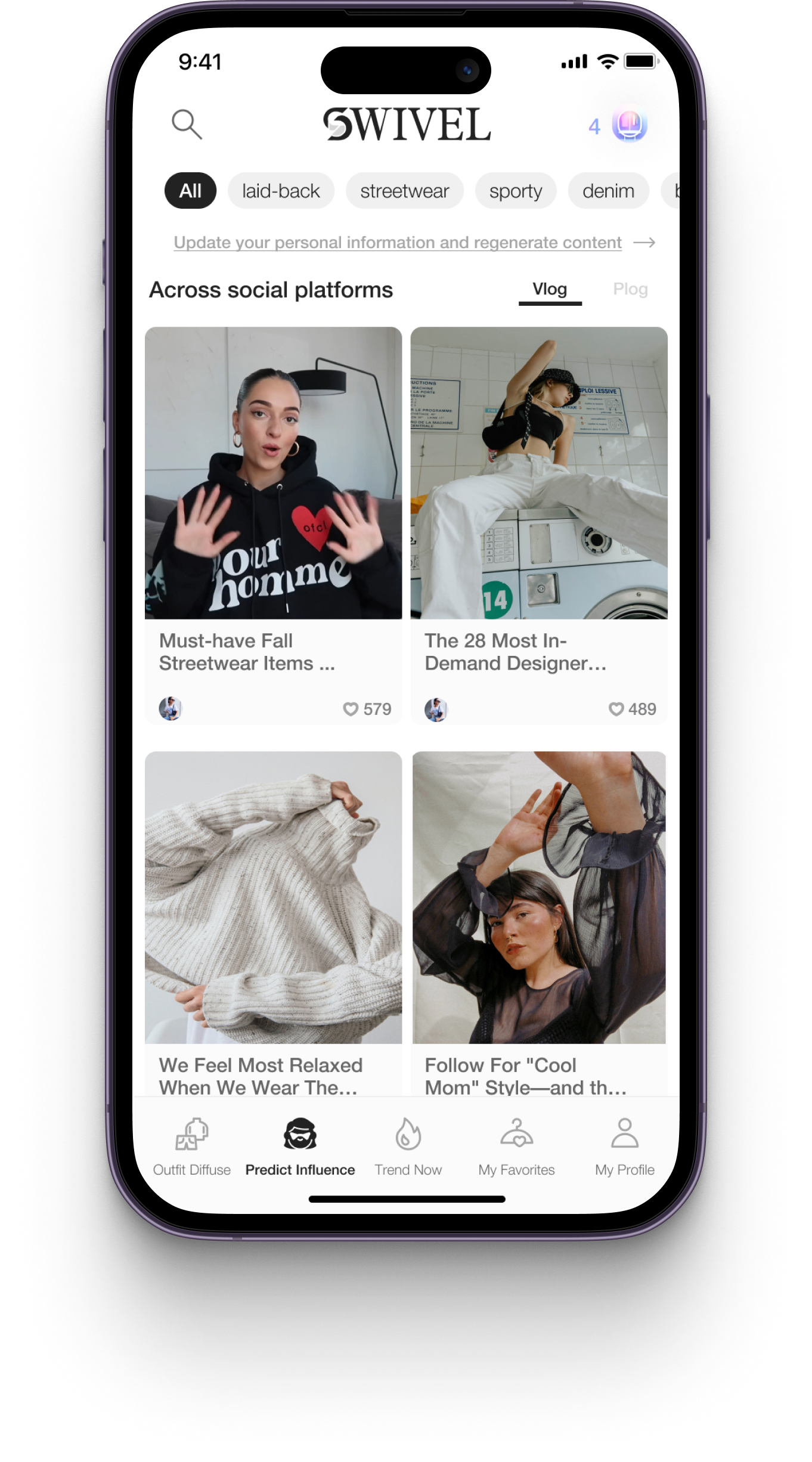 ︎︎︎ Items Pages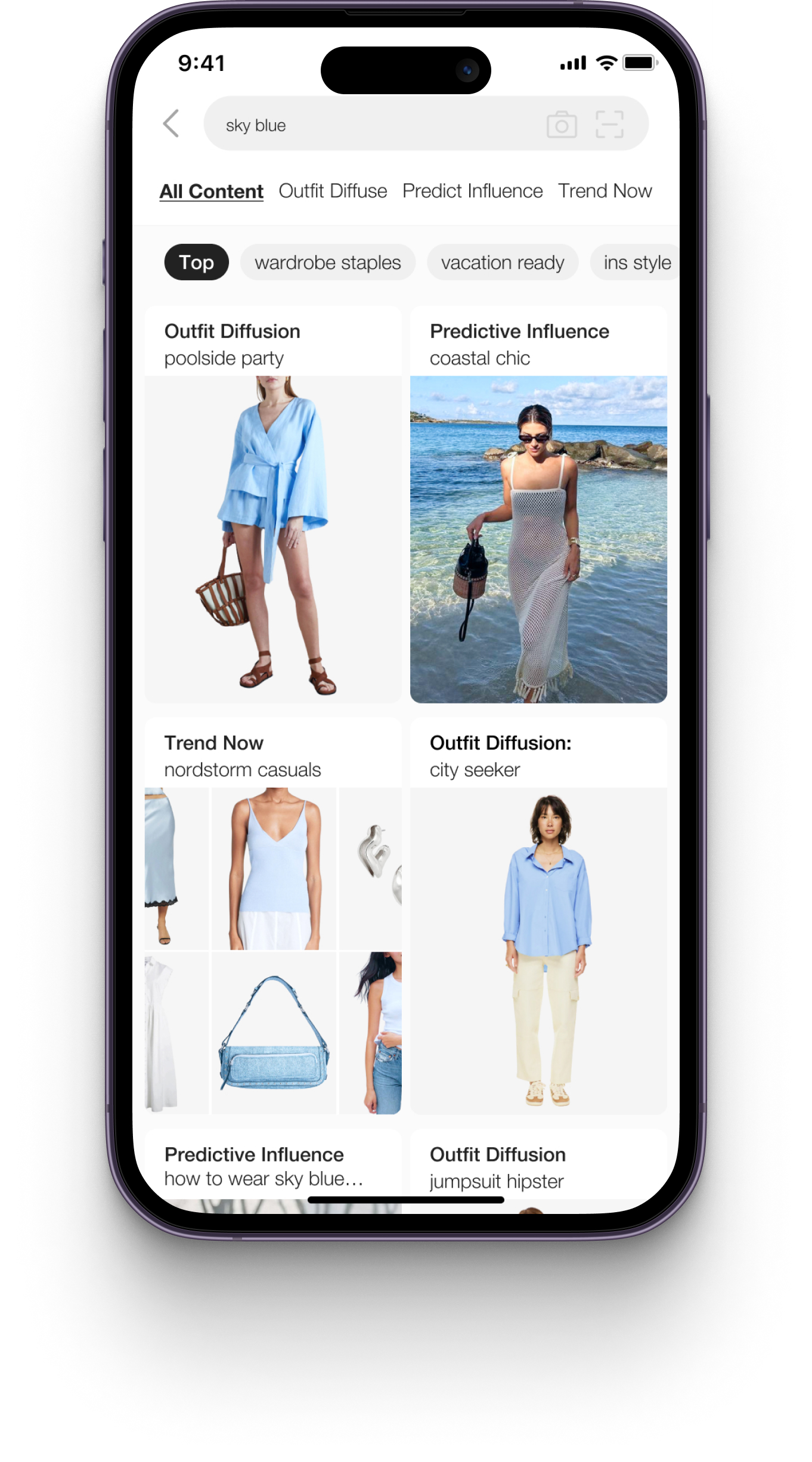 💬 Interview & Survey
We sent out an online survey and conducted interviews to
understand users' shopping experiences and their needs
.
︎︎︎ Target Group
Aged 19-35, who are experiencing time-consuming and not personalized shopping process when shopping clothings and accessories online
︎︎︎ Confirmed Initial Assumptions
Swivel's potential functions, but research also revealed that
time and personalization
was not the only factors.
Other user problems included
misleading product descriptions and promotions
,
lack of cross-platform comparison, insufficient styling and matching suggestions and recommendations
etc.
Tedious and lengthy process when browsing items and making online purchasing decisions
Lack of cross-platform comparison for shopping items, encompassing prices, shipping details, and return policies etc.
Personalized styling and matching suggestions and virtual try-on options tailored to individual shopper preferences
Insufficient diversity in accommodating various shopping habits and behaviors among users
❓ Problem Reframe
How might we design an AIGC (Artificial Intelligence Generated Content) product for online shopping that offers personalized efficiency, quick product discovery, and elevated satisfaction?
Personalized shopping item recommendations and suggestions
Integration with social media platforms, curating influencer feeds matching user interests
Enhanced accuracy in product descriptions and promotions, with precise labels and interactive customer reviews
Facilitating cross-platform comparisons of shopping items, allowing sorting by multiple filters
Providing styling and matching suggestions tailored to personal preferences
Implementing outfit visualization and virtual try-on capabilities for complete outfit coordination with frequently purchased items
🧱 Information Architecture

Feature 01 Personalized Onboarding Progress
Input Age
Input Gender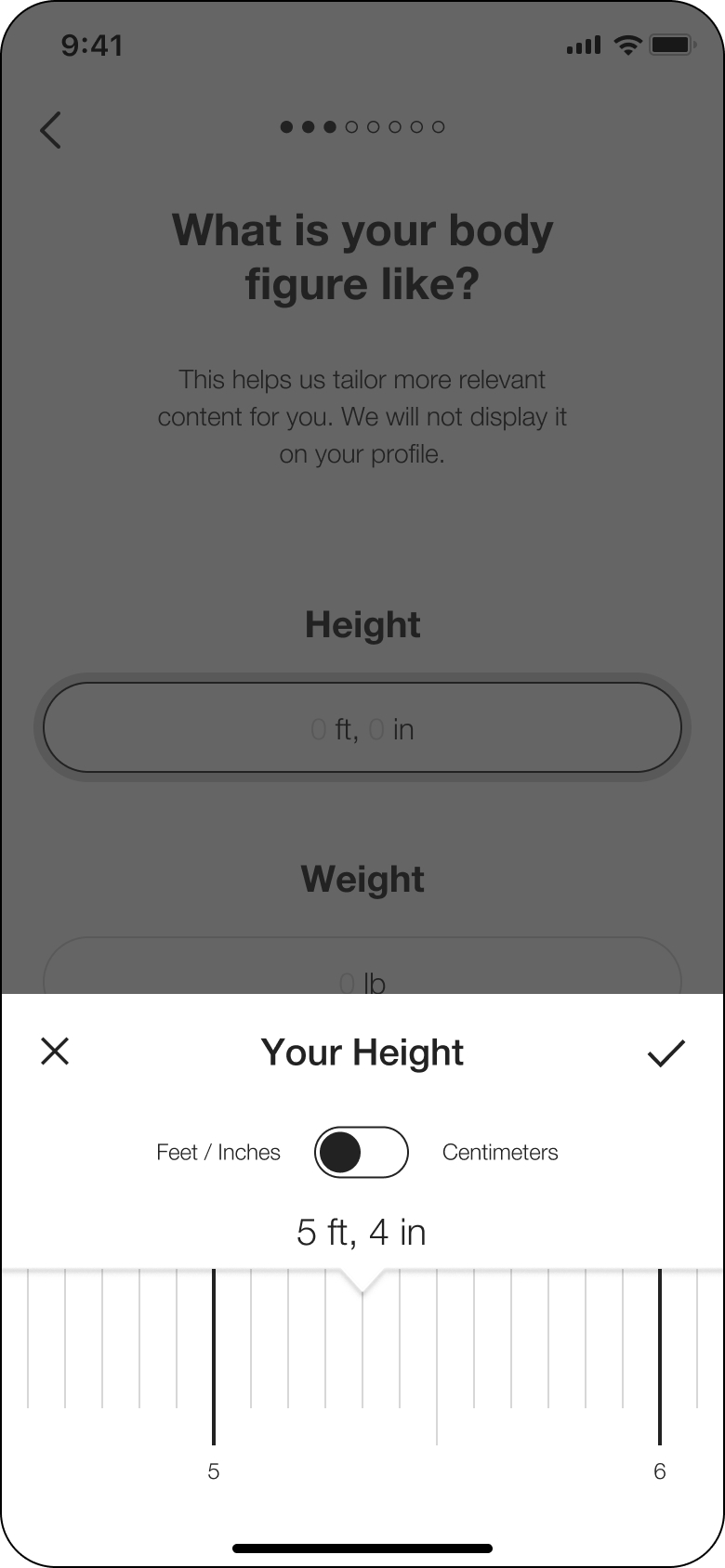 Input Height & Weight
Select Body Figure
Input Skin Tone
Upload Favourite Outfit
Select Favourite Style
Input Personal Interests
Feature 02 New Styles and Inspirations for a Changing Body


Homepage
Update Information
Regenerating
New Outfit Diffuse Page

New Predict Influence Page
Select a Vlog
Influencer Homepage
Connect to Influencer's Channel
Feature 03 Seamless Cross-Platform Information Integration
Search Page
Input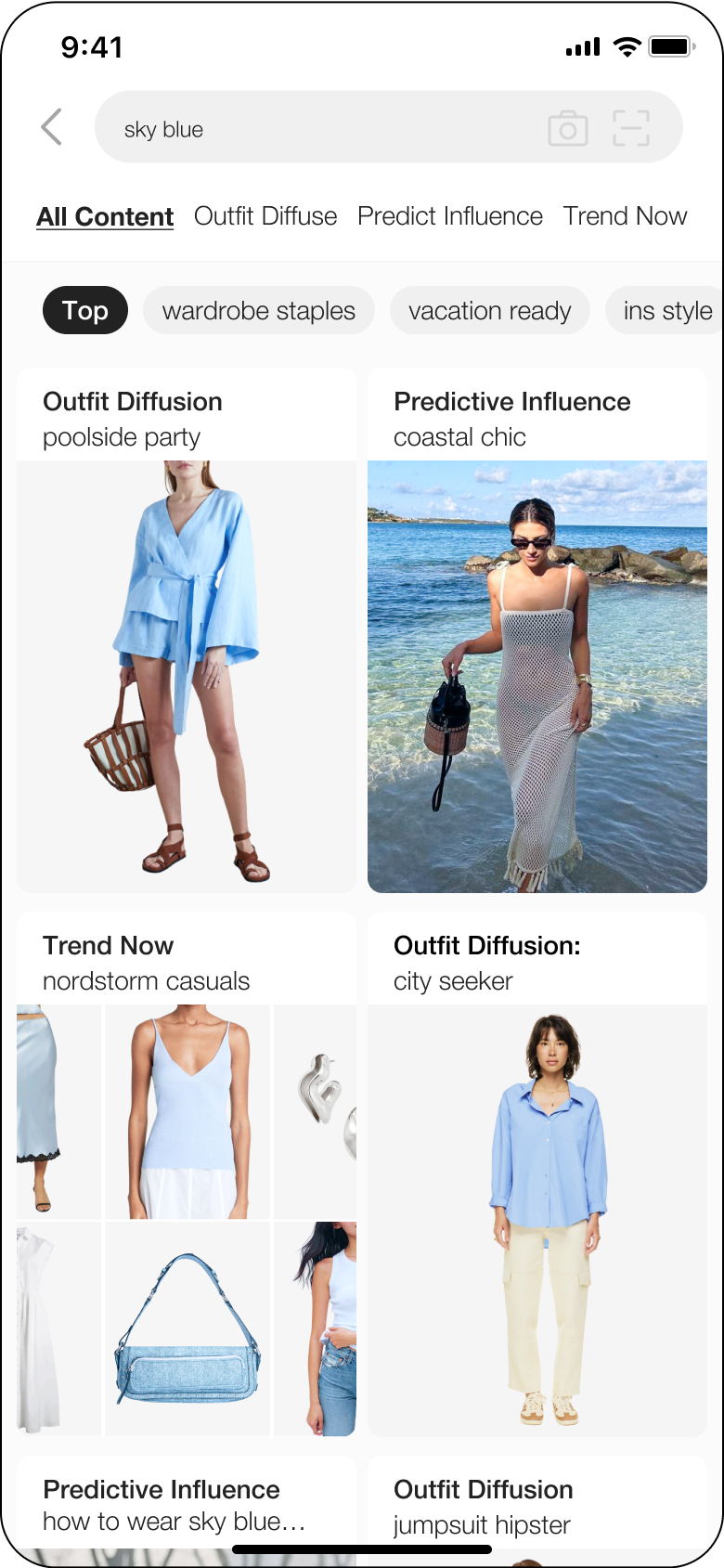 Search Results
Similar Items
Item Info Page
Size Guide
Connect to Retailer
Feature 04 Notification of New Trends
Widget
Trend Now Page
Trend Details
Similar Items
Feature 05 Virtual Try-On
Drag Items to Try On
Try-on History
Try-on
Recommendations
Conduct user testing
Develop prototypes for user interaction
Complete the user profile page
Implement the "Favorites" feature

Integrate consistent image styles
Enhance information hierarchy
If you're all the way down here already,
💖 thank you so much for taking the time out of your day to live this journey with me!